Color Flame
Lighting Instructions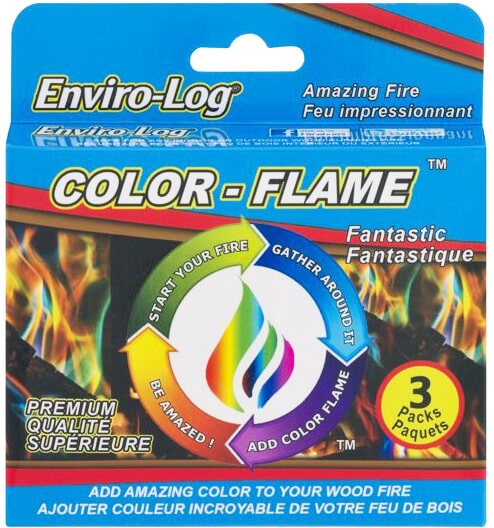 Color-Flame
Shop Now
EnviroLog Color-Flame is a safe and simple way to add amazing color to your fires. EnviroLog Color-Flame can be used indoors in a fireplace or woodstove, and outdoors in a firepit, chimenea or campsite. Simply toss one or two packets into an established firelog or wood fire and watch vibrant colors appear in the flames for up to an hour. Great for entertaining children, family and friends as well as adding excitement to special occasions, birthdays and holidays.
Are you ready to add some amazing colors to your fire with EnviroLog Color-Flame?
1.
Get your fire going with EnviroLog Firelogs, firewood or both. Complete any cooking before adding Color-Flame. (Cooking over Color-Flame is not recommended).
2.
Toss 1-2 unopened Color-Flame packets into your fire, making sure the packets are immersed in the flame. (Do not open the Color-Flame packets)
3.
Wait a few minutes while the package dissolves and colors emerge in the flames. Enjoy a variety of colors for up to 45 minutes!